When you hear about a Kickstarter campaign the first thing that comes to your mind is most likely not a wrist watch project. However this summer it's been exciting to follow a Kickstarter campaign of the first Ukrainian designer's watch RIDER1991. Within the first week since the launch, the project has collected half of the required amount ($ 25,000) and more than 27 000 dollars by the end of the campaign. It's concept captured us right from the beginning and we couldn't wait to meet with the authors of the idea in person and get all the juicy details about the product and the campaign. Nazar Malets is one of the co-founders and designers of RIDER1991 watch. He is also a rising star in the industrial design world and a co-founder of GM design group. In this interview Nazar shares some interesting insights from recent crowdfunding experience and valuable hints on starting a business.
ZeyOS:  Please tell us shortly about yourself and your background.
Nazar:  I am a designer at heart and a co-founder of GM design group. I have started this business with my partner when we were still students. I remember that time all our classmates were making jokes about us – young guys pretending to be a design studio. But we never got mad at them and instead continued to play our roles. This is the thing about starting a business – first you must create it in your head and then act it out.
ZeyOS:  We would like to hear about your new project RIDER1991. What is it about?
Nazar: RIDER1991 is a collaborative project of Ukrainian designers from GM design group and the founders of designer watches project ZAVOD untied to develop a new craft watchmaking in Ukraine. Driven by our true passion to unique timepieces we have created the first Ukrainian designer's wrist watch RIDER1991.
ZeyOS:  What is so unique about your idea?
Nazar: There is a whole story behind the creation of the RIDER1991 watch and its fully reflected in its design and its name. Its concept is devoted to the idea of free movement as it has been inspired by one of our friend's road trip on an old motorcycle around his country as well as by the atmosphere and aesthetics of the Café Racer motorbike culture. If you look at the watch you can tell that it was made in analogy with a motorcycle. Its crown is embedded into the case to assure a free movement of the wrist on the motorcycle and in everyday life. We have researched the global market and haven't found anything similar.
ZeyOS:  What motivated already successful entrepreneurs to start a new business project?
Nazar: It started from a personal need. I've always been a fan of unique timepieces. Once my wife encouraged me to look for some nice designer's watch in Ukraine. This led us to ZAVOD shop where we met the founder Andrew Kravchuk. The passion to watches immediately connected us. I must say that the idea to create our own wristwatch was born out of a random conversation. Soon after it we started our active collaboration towards its implementation.
ZeyOS:  Are there any other reasons to refer to a crowdfunding platform besides raising funds?
Nazar:  At first, we wanted to invest our own money to produce the first batch of watches. But than we thought that smart entrepreneurs prefer to attract an outside investment for their business. This way you create a new capital and a new turnover of funds. Besides you feel more pressure to make it a success. The other advantages of crowdfunding are that it speeds up your brand building process very much. The tight schedule makes you act very fast. Just within a couple weeks we managed to do things that could have taken us months and years to accomplish. Kickstarter and crowdfunding overall is a very good way to test your idea, study your target audience and get a real feedback. We have got a lot of valuable feedbacks that gave us some new ideas about our next watch models.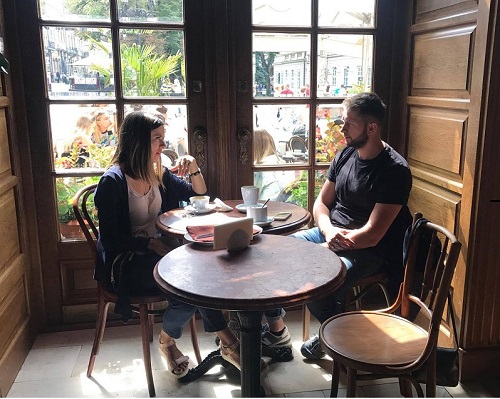 ZeyOS:  How did you set up the team collaboration process? What helped to make it smooth?
Nazar: Right from the beginning we agreed to share all responsibilities, expenses and income 50/50. At the beginning the zones of responsibilities were not clearly defined and the process naturally got established in the course of work. The fact that our talents and skills perfectly complemented each other has helped us a lot. We have never had any serious conflicts about who does what. We have agreed that whenever we argue about whose opinion or idea is the right one to accept that option that is the best for the customer and for the business overall. So once in such a situation I simply said: "Listen, this idea will be the best one to choose for the project, right?  - Right!
ZeyOS: As we know your team members are geographically dispersed across different cities and even countries. What helped you to communicate and collaborate effectively?
Nazar: I think we couldn't go without all sorts of cloud solutions where you can have a centralized access to all documents and working files. As well as different team communications tech that enables to make conference calls, create group chats etc. This all helped to speed up the process greatly. I am wondering, would it even be possible to implement our idea without modern technology?
ZeyOS: Tell us about the preparation process to the Kickstarter campaign. What are the main stages and some key moments to pay attention to?
Nazar: 
Study your competitors. Find out which ones are on Kickstarter. Study their product pages. Analyse the successful ones.
Prepare a great marketing content – video, photo materials etc.
Get help from some expert on Kickstarter campaigns. Our problem was that our mindset was too creative and we needed someone that organized the process in such a way to bring us money.
Start sending out your press kit 1-2 months before. Not like us, right before the launch.
ZeyOS:  What were the biggest challenges during the whole process?
Nazar:  Sometimes I felt impatient to wait for the result. It was also quite difficult to get used to unpredictable changes in the schedule. But the biggest struggle was to find a balance between purely creative ideas and ideas that bring money.
ZeyOS:  What are the most important steps after the campaign had ended?
Nazar: 
Analyse the mistakes, even if your campaign was successful.
Work with backers' payments that failed for various reasons as there is a limited time to retry the payment.
Analyse the numbers. Ideally find a professional that understands numbers and can manage the budget wisely. 
ZeyOS:  Could you share your greatest insights from this crowdfunding experience?
Nazar:  It was amazing that something that was just an idea has become a reality. And you feel a bit shocked that you did it. Now it's nice to realize that you've founded a brand that someday may become a part of the history. Someone may think that you need lots of money and connections to start a business. But everything is doable. You need to make your decision very quickly and immediately start to implement. Make the decision, begin to implement, solve the problems as they arrive.
ZeyOS:  What would be your advice to beginning entrepreneurs before launching their business?
Nazar: - Don't be afraid to reach out to the best leaders of the industry to ask them for their opinion or to advise about your business idea. For example, I contacted the designer @Bell & Ross and he responded to me. He was one of not many who gave me a valuable feedback with a very constructive criticism regarding our product.
Learn to accept criticism from qualified people. Don't get upset with it but rather think "Wow, now I know something new".
Don't be afraid to talk about your idea thinking that someone may steal it. No one cares about it yet. First you must prove that it's really something useful.
Look for highly qualified team members and those who are quick learners and who share your idea. Enthusiasm is very important in the beginning and helps to overcome many difficulties.
ZeyOS:  What resources do you use to obtain new knowledge and keep up to date with the latest trends, etc.?
Nazar:  Books are very useful for learning some basics but they become out-of-date very quickly as in modern times everything changes very fast. I find blogs from leading business practitioners very applicable. They usually share hacks that worked for them so there is a chance it will work for me too. I like to read articles about innovative future. I try to watch new trends and stay open for implementation of new approaches and developments. I realize the importance of developing innovative thinking. And it doesn't matter if you are selling a high-tech product or simple sugar. Everything develops very dynamically and if you are not innovative you will be left behind.
If you want to find out more about RIDER1991 or get in touch with Nazar, check out the website: http://www.rider1991.com